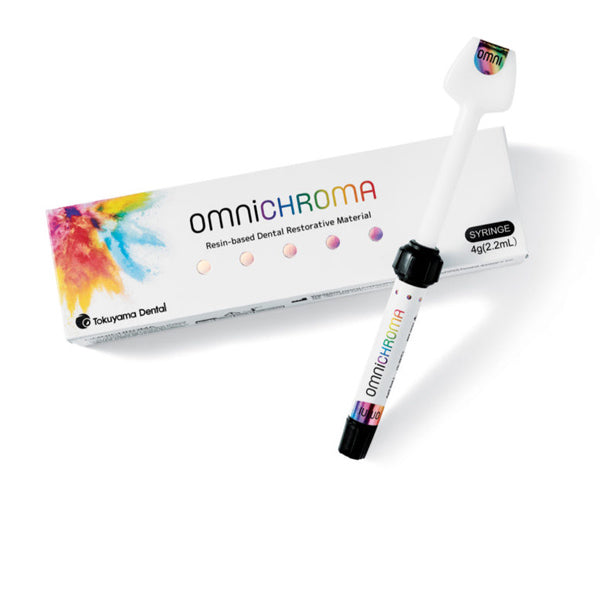 Tokuyama
Tokuyama Omnichroma Universal Shade - 4 g Syringe
---
Just One Shade to Match All Patients!

Groundbreaking universal composite utilizes Smart Chromatic Technology to esthetically match the entire classical VITA shade range with just one shade.
Unprecedented shade-matching ability and esthetics.
Exceptional handling, polishability and strength.
Decreases the cost of inventory and expiration of incidental shades.
Reduces the chair time spent on shade-matching procedures.
Use Omnichroma blocker in conjunction with Omnichroma composite for the direct restoration of extensive Class III and IV cavities. It can be used as a lingual layer to prevent shade-matching interference, to mask slight staining, or to reconstruct a highly opaque tooth.
Universal Shade - 4 g Syringe. Resin based restorative material with Smart Chromatic Technology. World's first universal composite that esthetically matches every patient, from A1 to D4, with a single shade. Its uniformly sized supra-nano spherical fillers (260nm spherical SiO2-ZrO2) allow OMNICHROMA to match every one of the 16 VITA classical shades.
Package: 1 - 4 gram syringe
SKU: 10116
Exp: 2025-03
---
Share this Product
---
More from this collection