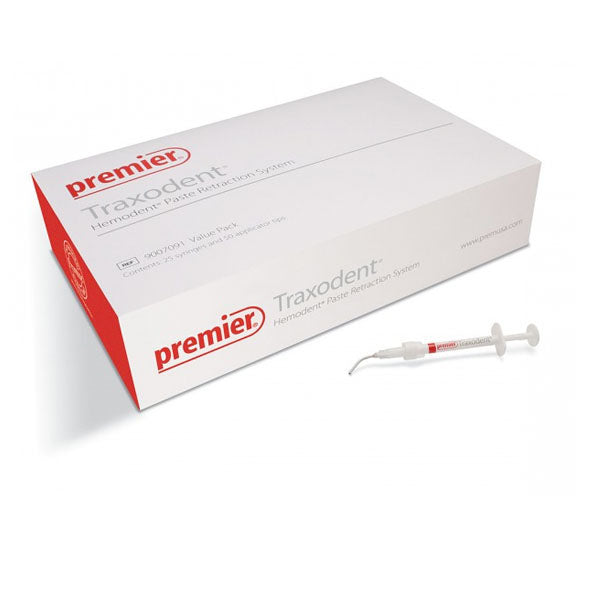 Premier
Premier Traxodent Hemodent Paste Retraction System Value Kit
---
Traxodent is a 15% aluminum chloride retraction paste. Once placed in the sulcus, the absorbent paste displaces soft tissue, creating retraction while the aluminum chloride stops bleeding and crevicular seepage. After two minutes the sulcus is rinsed, leaving a clean, dry, and accessible margin.
Traxodent offers you:
Quick effective retraction:

 

approximately 2 minutes - no fumbling with hemostatic solutions - saves chair time.
Superior hemostasis:

 

stops bleeding and crevicular seepage while retraction occurs - easily absorbs excess crevicular fluid.
Increased patient comfort:

 

avoid tearing gingiva - less pressure on sensitive tissue.
Choice of delivery system:

 

use an ergonomic disposable syringe with bendable syringe tip or the convenient unit dose capsules.
Maximum freshness:

 

each syringe is packaged in a ready-to-use and resealable foil pouch.
Traxodent is also highly recommended for veneer placement when a dry field is required.
SKU: 9007091
Package: 25 - 0.7g Syringes and 50 Tips 
Exp: 2025-11/12
---
Share this Product
---
More from this collection