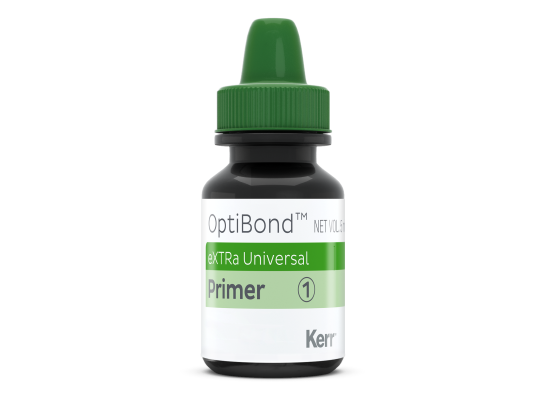 Kerr USA
Kerr Optibond eXTRa Universal Primer Buy 1 Get 1 Free promo code BF23
---
Buy 2 Get 1 Free Manufacturer Special
Buy 1 Get 1 of the following Free:
Harmonize™, OptiBond™ eXTRa Universal, NX3 Nexus™ Third Generation
Introducing OptiBond™ eXTRa Universal. Built on its predecessor OptiBond™ XTR, it combines the reliability of patented OptiBond™ GPDM technology with the peace of mind of a consistent, universal solution. Its two-component formulation brings together the power of a total-etch adhesive and the safety of a self-etch technique in one consistent protocol.
When used together, OptiBond™ eXTRa Universal and NX3 Nexus™ cement combine the clarity of one standardized process for all indirect procedures, with outstanding results even in total dark cure mode. 
The Gold Standard In Adhesion. Kerr's proven OptiBond™ GPDM Monomer ensures more effective and reliable adhesion than other adhesive monomers to both the tooth structure and the resin material.
Two Bottles. One Consistent Protocol. Prior to curing, OptiBond eXTRa Universal features a very low pH for effective enamel etching. After curing, the pH neutralizes, creating outstanding compatibility with virtually all types of cements, composites and core build-up materials and eliminating the need for any auxiliary product.
SKU: 36660
Contains: 1 Bottle Primer (5ml)
Buy 2 Get 1 Free Manufacturer Special
Buy 1 Get 1 of the following Free:
Harmonize™, OptiBond™ eXTRa Universal, NX3 Nexus™ Third Generation
Promotional goods must be of equal or lesser value and may not be combined with any other offers.
Purchase must be made on one invoice between 11/20/23 and 11/27/23, unless otherwise noted. Redeem by 12/31/23. To receive your promotional goods, email or fax a copy of your authorized Kerr dealer invoice noting promo code BF23 and product(s) desired to: kerrpromo@kerrdental.com or FAX: 888.727.2614. Limit to 3 redemptions.
Incomplete submissions will not be processed. Allow 8 weeks for delivery. Offers valid in the 50 United States only. Promotions are subject to change or cancellation without notice. Offer void if purchased product is returned.  Valid in the U.S. only. 
---
Share this Product
---
More from this collection