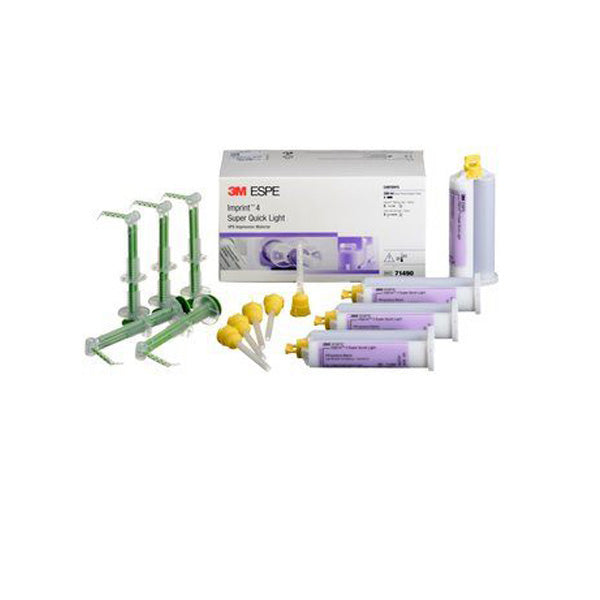 3M ESPE
3M Imprint 4 Super Quick Light Body Refill: 4 - 50 mL Garant Cartridges
---
Imprint 4 offers you:
Active self-warming for accelerated setting
Shortest intra-oral set time for real time savings
Sufficient working time for stress-free procedures
Super-hydrophilicity for excellent flow and finest detail
Fresh material colors for enhanced readability
Pleasant minty taste for more patient comfort
Accelerated setting saves chair time
The Super Quick set materials fully set in only 75 seconds!
A unique chemical reaction in Imprint 4 triggers an unprecedented short intraoral setting time. And because the self-warming doesn't start until the end of the working time, you still get all the time you need to prepare for your impressions.
Working Time: 1 min 15 sec
Intraoral Syringing Time: 35 sec
Intraoral Setting Time: 1 min 15 sec
Package: 4 - 50 ml Garant Cartridges, 5 Yellow Mixing Tips and 5 Green Intra-Oral Syringes. Super Quick Set, Light Viscosity, Lavender color 
SKU: 71490
Exp: 2023-07
---
Share this Product
---
More from this collection