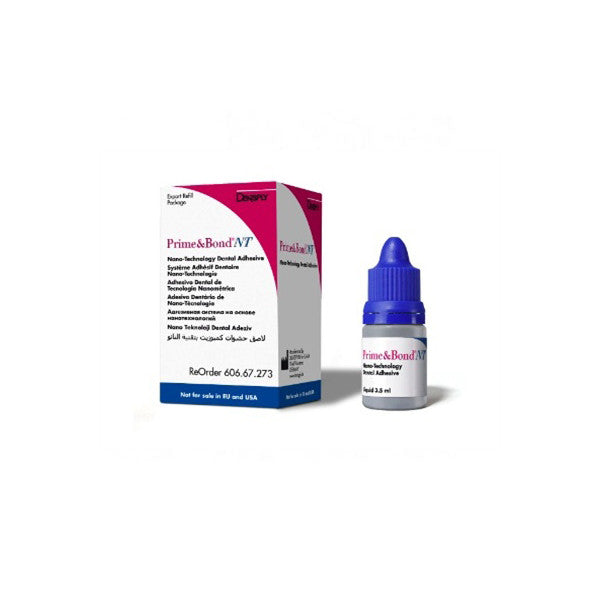 Dentsply
Dentsply Prime & Bond NT Light Cure Adhesive
---
Prime and Bond NT Light Cure Adhesive
Description
Prime & Bond NT is a light-cured, total-etch bonding agent that contains nanofillers of amorphous silicon dioxide, di- and tri-methacrylate resins, PENTA (dipentaerythritol penta acrylate monophosphate), and acetone (solvent). It requires one application followed by a 10-second light cure. Prime & Bond NT is designed to bond composite materials to enamel and dentin. It is also indicated for the bonding of veneers, composites and ceramics, as well as an adhesive cavity varnish for amalgam. When using Prime & Bond NT to bond crowns and veneers, it must be mixed with Self Cure Activator. The purpose of this study was to determine the long-term clinical performance of Prime & Bond NT at 12 years. This product received a 98% clinical performance rating.
Clinical Protocol
Prime & Bond NT was used to bond a total of 151 composites, crowns and veneers over 12 years. Self Cure Activator was used with Prime & Bond NT in the bonding of crowns and veneers. At 12 years, 84 of these restorations were available for recall.


Clinical Observations:
No patients reported any long-term sensitivity in the teeth where Prime & Bond NT was the bonding agent used. >Resistance to Marginal Discoloration 81% of the restorations evaluated at recall showed no signs of marginal staining. Slight marginal discoloration was observed in 17% of the restorations and moderate marginal discoloration was observed in 2%. No restorations were replaced or repaired as a result of marginal discoloration.


No restorations placed debonded during the 12 years in service. One MOD >restoration on a premolar fractured and was replaced. One restoration was replaced and extended as a result of recurrent caries. 3 restorations were subsequently covered with a crown.
Package: 1- 3.5 ml Bottle
SKU: 60667273
Exp: 2025-10/2026-04
---
Share this Product
---
More from this collection