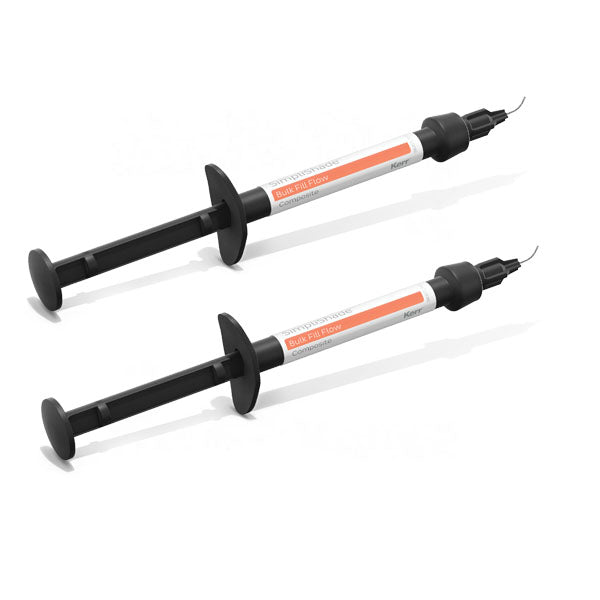 Kerr USA
Kerr SimpliShade Bulk Fill Flow Syringes 2 pcs/pk Buy 2 Get 1 Free promo code NPSS23
---
Kerr SimpliShade Bulk Fill Flow Syringes
Buy 2 Get 1 Free Manufacturer Special
Get the adaptability, durability, depth of cure, and simplicity you want from a flowable bulk fill composite. With SimpliShade™ Bulk Fill Flow, you'll have it all. Requiring just one shade to match all 16 VITA® Classical shades, SimpliShade Bulk Fill Flow is a self-leveling composite that easily adapts to the cavity floor. Simplify your workflow with the ability to cure up to 4mm, before adding a capping layer.
Powered by ART3, an enhanced version of the Adaptive Response Technology found in Harmonize™ and SimpliShade Universal Composite, SimpliShade Bulk Fill Flow is easy to handle, blends seamlessly, and offers lower shrinkage stress. One-shade simplicity has never been so powerful.
Ease of Sculpting.

 

Adaptive Rheological Response Technology reduces viscosity during handling, then recovers stability for light curing to minimize rework.
Seamless Color Blending. Adaptive Color-Blending Response Technology mimics enamel structures and naturally interacts with light for enhanced blending between restoration and tooth.
Low Shrinkage Stress.

 

Adaptive Shrinkage Stress Response Technology relieves interfacial stress between the filling and resin matrix during curing, for improved marginal adaptation.
High Adaptability.

 

Fill every area of the tooth's anatomy with a self-leveling bulk fill flowable that easily adapts to the cavity floor.
Single-Shade Time Savings.

 

With one shade for all 16 VITA classical shades, you'll save time and simplify inventory management.
Contains: 2 x 2g Syringe, 20 tips
SKU: 37207
Exp:  2025-05
BUY 2 GET 1 FREE. LIMITED TO 3 REDEMPTIONS.
Promotional goods must be of equal or lesser value and may not be combined with any other offers.
Purchase must be made on one invoice between 7/1/23 and 9/30/23, unless otherwise noted. Redeem by 10/31/23. To receive your promotional goods, email or fax a copy of your authorized Kerr dealer invoice noting promo code NPSS23 and product(s) desired to: kerrpromo@kerrdental.com or FAX: 888.727.2614. Limit to 3 redemptions.
Incomplete submissions will not be processed. Allow 8 weeks for delivery. Offers valid in the 50 United States only. Promotions are subject to change or cancellation without notice. Offer void if purchased product is returned.  Valid in the U.S. only. 
---
Share this Product
---
More from this collection